Seekers Day World Scratch Map
Product Description -
Introducing the Seekers Day World Scratch Map - Unveil Your Adventurous Spirit!

Discover the world in a whole new way with our Seekers Day World Scratch Map. Measuring 32 x 16 inches. Crafted on 250g heavyweight lacquer paper, its premium quality ensures both durability and an unmatched tactile experience. Unleash the thrill of exploration as you scratch off the top layer, revealing each country's own set of colors.

Seekers Day World Scratch Map comes with a custom-wrapped tube, making it an exceptional gift for anyone seeking inspiration for their next escapade. Embrace the joy of exploration and create memories that will last a lifetime with our Seekers Day World Scratch Map. Start scratching off your dreams today!
Product Details +
Size: 32 x 16 inches
Material: 250g Heavyweight Lacquer Paper
Special Top Layer: Lightning Bolts for a thrilling scratch-off experience
Reveals Unique Country Colors
Sturdy Custom Wrapped Tube for safekeeping and gifting
Seeker Sustainability Project +
At Seek Discomfort, we're on a mission to seek more green, and we're doing our part by designing & producing sustainable & environmentally-friendly clothing. Learn More.
Seekers Day World Scratch Map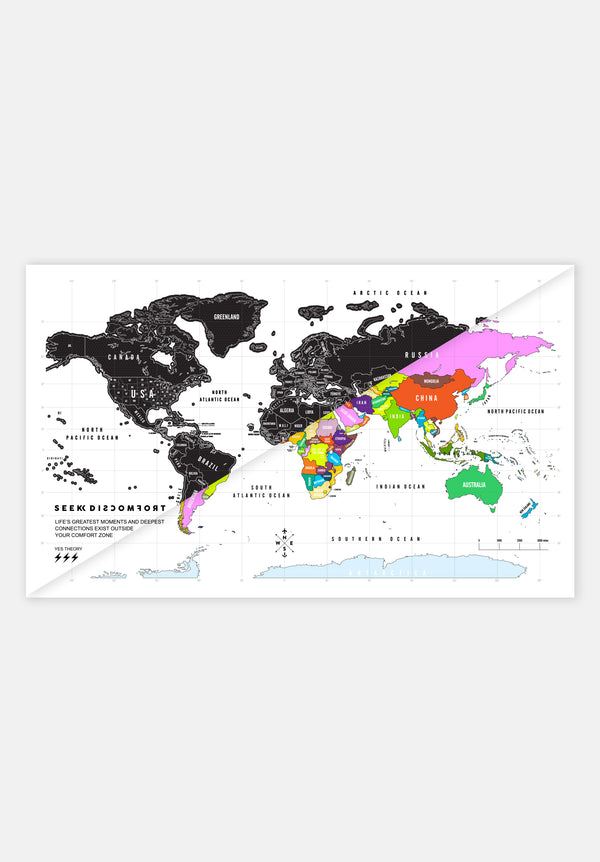 X
Size Chart for Seekers Day World Scratch Map